Know Procedure of Installation & Configuration of IBM Notes 9
---
The Right Process To Install & Configure of IBM Notes 9 on Windows Is Here!
Usually the process to install and configure IBM Lotus Notes in version 9.0 on your PC considered full of troubles but now it is more full of hurdles. The given below steps will help in installing and configuring Lotus Notes 9 on Windows Operating System. Most importantly note down that this guide is meant for Lotus Notes edition 9.0. The process for other Lotus Notes edition is little bit different.
Steps to Install and Configure Lotus Notes 9.0:
First of all, locate the installation set up file for IBM Lotus Notes 9. Then double click as well as run
You will find IBM Notes 9.0 Social Edition on screen, then install Wizard dialog which will pop up on screen. Then press 'Next'.
Then select 'I accept the terms in the license agreement' and after that press, 'Next'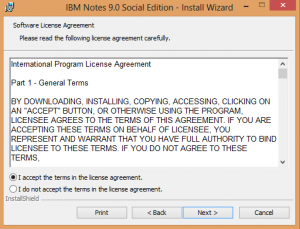 Make sure for checking the installation path. If already existing setup is Client Only installer then multi-user option is available. Select the path and then press 'Next'. If user is using standard set up then options such as Multi-User as well as Single user Options will appear.
Then select the options for installation. In this select the features by just leaving single user logon. This is all inclusive of Full design as well as Admin clients. "NEW Notes Browser Plug-in" and "OpenSocial Component" options will appear. Press 'Next' after choosing the features.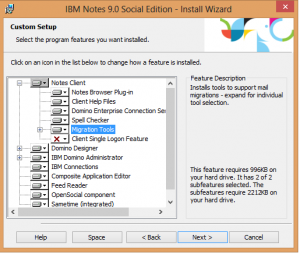 Once Lotus Notes is installed, ensure to check the boxes if you are in need to utilize email application as default application for contacts, calendars, emails along with speeding up the procedure by selecting 'Launch parts of Notes' and after that click 'Install'
Lotus Notes installer will begin extracting the program and will take away data files to system's hard disk
The completion message will pop up on screen after installer completion is done. Then press 'Finish' for proceeding further.
This leads to get done with the installation of software on PC. Now configure Lotus Notes 9.0 via following steps:
Press Start or make use of Desktop icons by displaying Splash screen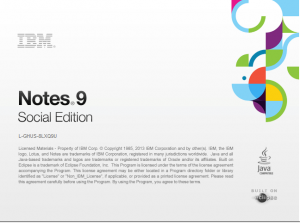 Configuration wizard will appear. This will let you know what sort of details is needed to configure Lotus Notes in version 9.0. Press Click and seek below given steps: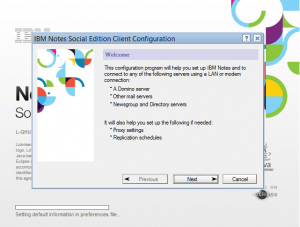 Enter IBM Notes username with 'home' as Domino server. Press 'Next'
A message will appear asking for providing User ID password. Press Sign In

Lotus Notes in instilled with the lineament which help users to get connected with Lotus Notes clients in order to acquire various other internet services. The configuration of services possible anytime user feels the requirement for. Ensure for pressing 'Next'
This leads to successful installation and configuration of Lotus Notes in version 9.0
The steps above given leads to successful installation and configuration of Lotus Notes in edition 9.0. Now, start with Lotus Notes for sending and receiving emails. There are immense of our software such NSF to PST Converter and several more where installation and configuration of Lotus Notes in indeed needed on your machine. Hopefully the steps will help in fulfilling the purpose where Lotus Notes installation is a mandatory requirement.
---
---